Honda CD 100 Dream price honda bike price list nepal honda cd 100 specs honda bike price in nepal 2019, honda cb150r price in nepal, hero honda bike price in nepal, bike price in nepal 2077, honda bike price in nepal 2020, cbr 150r price in nepal 2019, honda unicorn 150 price in nepal,
bike price in nepal 2077 hero honda bike price in nepal 2019, honda shine second hand price in nepal, honda cb shine sp price in nepal, honda shine price in nepal, honda xr 125 price in nepal, honda cb hornet 160r price in nepal, honda bike price in nepal 2019, honda cbr 250 price in nepal
This is a fairly new offering from Honda and in terms of features, the CD 110 Dream offers a long saddle, stylish graphics, silver tone alloy wheels and an analogue console. The motorcycle comes powered by a 109.2cc, single cylinder engine and produces 8.31bhp.
The motorcycle is also available with the Honda Eco Technology or HET which helps improve fuel efficiency. The CD 110 Dream returns a claimed fuel efficiency of 74km/l and is available in three colours and variants- black with red stripes, black with blue stripes and black grey stripes.
Honda CD 100 Dream Key Features
| | |
| --- | --- |
| Bodytype | Commuter |
| Official Tagline | Relation That Lasts Long (Rishta Jo Lamba Chale) |
| Displacement | 109.19 cc |
| Maximum Power | 8.25 Bhp @ 7500 rpm |
| Maximum Torque | 8.63 Nm @ 5500rpm |
| Seat Height | 820 mm |
| Ground Clearance | 179 mm |
| Kerb/Wet Weight | 105 kg |
| Fuel Tank Capacity | 8 litres |
| Top Speed | 86 kmph |
Honda CD 100 Dream Price in Nepal
Rs. 1,78,900
CD 110 Dream DX is the most affordable motorcycle in Honda India's lineup. It is powered by the same tried and tested unit (109.19 cc) as most other Honda commuters. It produces 8.25 BHP at 7500 rpm and 8.63 Nm at 5500 rpm. The engine comes mated to a 4-speed gearbox and claims a top speed of 86 kmph.
Honda CD 110 Dream weighs just 105 kg for the kick start model while the one with self weighs 2 kg over the same. Despite being affordable and peppy, the motorcycle carries a nice set of alloy wheels and 179 mm of exceptional ground clearance. It rivals Hero HF Deluxe, TVS Sport and Mahindra Centuro in its segment.
HONDA CBR600RR – Born to Race. Bred to Win
The 600cc superbike, Honda CBR600RR is powered by Race-Ready liquid-cooled DOHC 16-valve inline four-cylinder power plant. Inspired by ultimate racing machine Honda RC213V, CBR600RR is offered the perfect balance of high-revving power, precise handling. CBR600RR evolve into one of the most polished packages ever produced in the Super Sports arena
---
Honda XR190L – Go Beyond Your Limits!
Strength, agility, economy and more power are four characteristics that distinguish the new XR190L. It faithfully retains the duality of the XR family, so it's a motorcycle designed to respond well in the city and beyond. Whether on your daily trips or out for a weekend, the XR190L is always ready and will go beyond your limits.
---
Honda CRF Africa Twin – True Adventure
In 1986 the legendary NXR650 made its debut at the Dakar Rally and the dream of winning the most demanding off-road race in the world came true and did it again in '87, '88, and '89, and the winning went into the original XRV650 Africa Twin which later became the now-legendary XRV750 Africa Twin, after four years of development, it's at the very heart of the new CRF1000L Africa Twin.
True to its roots, which are firmly embedded in Dakar history, the Africa Twin is also a comfortable tourer as well as a practical commuter – but when you hear that call – it's strong and agile enough to take you across the more challenging terrain of roads less traveled.
---
CRF 250L Rally – For the Adventurous
A machine made for the serious dual-sport rider. With styling that's directly linked to the HRC CRF450 RALLY Dakar racer, the CRF250 RALLY has the look of a competitive desert racer that could take on the world. This bike delivers a real taste of adventure to riders who prefer a light, easy-to-manage machine. Around the world or around the block, it's good to go anywhere you want to take it – trail or tarmac.
---
CRF 250L – All About Freedom
Dirt trails, gravel roads, city streets, open highways—the New CRF250L is your loyal traveling company for all of them. Compact and sophisticated liquid-cooled DOHC 249cc single-cylinder four-stroke powerplant with Programmed Fuel Injection (PGM-FI) produces smooth and consistent torque at low rpm, plus excellent high-rpm performance.
---
CBR 650F – The wild doesn't always scream
The Honda CBR650F is a bike that will appeal to your practical and emotional sides. A truly fun ride at a great price, it's what Honda does like no one else. Built around a smooth, inline-four engine specifically tuned for low-to-midrange torque, the CBR650F has a powerband that's suited for a wide range of riding styles. Weekday commuting, weekend sport riding, long trips, short hauls, solo or with a passenger— the CBR650F does it all.
---
CBR 250R – Discover new Roads
Rev up the ignition to silence your buzzing thoughts. Mount the drop-dead styled CBR 250R and head out. With every mile, you will discover something new. The unrivaled comfort. The superb throttle. The fun of manoeuvering. Go, explore new roads with the CBR 250R.
---
XR 150L – The Ultimate Dirt Slinger is Here

The XR 150L is designed for riders who dare to feel more. The dual-purpose motorcycle is perfectly suited for its two functions, unpaved or paved city roads and terrains.
---
2020 Honda Bikes Price List Nepal | Bikes Nepal
Honda has been committed to spreading mobility through society while promoting traffic safety for every individual. With this fundamental belief, on March 23, 2010, Syakar Trading Company Pvt. Ltd. inaugurated the 'Syakar Safety Riding Training Centre'- the first and largest motorcycle training institute with an area of 10,200 sq.m at Gwarko, Lalitpur.
The motorcycle training institute has been developed under Honda Motors Japan training standards and is well equipped with well-trained male and female Safety Riding Instructors and a sufficient amount of safety gear. The newly generated trial for getting a motorcycle license has also been implemented at Syakar Safety Riding Training Centre.
XBlade – One Look Is Enough
Born to transform your ride. Cut through the dark with first-in-class Robo-Face LED headlamps with aggressive styling, because all you need is one look with the all-new Honda X Blade.
---
CB Shine SP -Add More Excitement to Your Life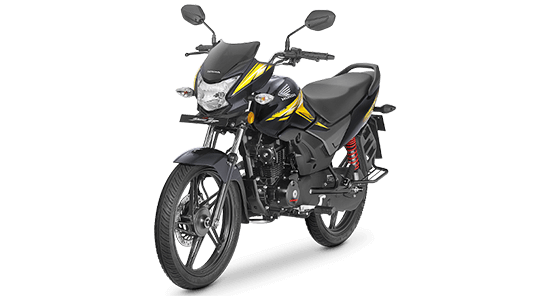 The new CB Shine 125 SP makes the journey of your life much more exciting with an extra gear. Let its better pick-up and mileage take you places and its unique style helps you leave an impression wherever you go. Change the gear. Change your life.
---
Honda CB Hornet 160R New – Bult After You
When the machine echoes your growl. When it revs like your heart. When it has the works to rock every runway it treads on. You know it is a rocking beast. The bike that's built after you is fast and stylish. BUILT AFTER YOU.
---
CD 110 Dream – Built to Perfection
Built to perfection, this 110cc, 4-stroke bike comes equipped with Honda Eco Technology that generates high power & torque output and gives you a superb mileage. It allows you to gain high-speed stability with its longer wheelbase and forget about unstable roads with its higher ground clearance.
---
Honda CB Shine – Best Companion
CB Shine is a companion that understands & fulfills the rider's need to do more in life by delivering superior performance that is nothing short of a dream come true.
---
CB Unicorn 160 – A great journey Begins
With a powerful 160cc BS-IV engine, AHO and Matte Blue Colour, let the stylish CB Unicorn 160 take you on a great journey.
---
Honda is the world's largest manufacturer of two Wheelers the 'Wings', recognized worldwide as the symbol of Honda two-wheelers, which arrived in Nepal in 1968 A.D. Jyoti Group of Companies initiated the distribution of Honda motorcycles by importing 11 units.
Syakar Trading Company Pvt. Ltd. (STC), one of the companies under the Jyoti Group of Organization, which was formally known as Syakar Company Ltd (established in 1976) is now the sole authorized distributor of Honda Motorcycles & Scooters, Honda Cars, and Honda Power Products in Nepal. The company officially changed its name to Syakar Trading Company Pvt. Ltd. on June 7, 2011 (Jestha 24, 2068 B.S) and became a 100% subsidiary of Honda.
From importing 11 units of Honda Motorcycles at the beginning till now, Syakar Trading Company has lived up to its reputation of offering the highest quality motorcycles & scooters and now imports almost 60,000 Honda Motorcycles & Scooters every year. Thanks to its ever-growing customers, Syakar Trading now has more than 70 Honda 2-wheeler outlets all over Nepal.
2020 Bajaj Pulsar Bikes Price List Nepal
2020 Vespa Scooters Price List Nepal
---
2020 UM Bikes Price List Nepal
---
2020 Yamaha Bikes Price List Nepal
---
2020 Hero Bikes Price List Nepal
---
2020 Honda Bikes Price List Nepal
---
2020 TVS Bikes Price List Nepal
---
2020 Benelli Bikes Price List Nepal
---
2020 SYM Bikes Price List Nepal
---
2020 SUZUKI Bikes Price List Nepal
---
2020 Royal Enfield Bikes Price List Nepal
---
2020 RUNNER Bikes Price List Nepal
---
2020 Mahindra Bikes Price List Nepal
---
2020 KTM Bikes Price List Nepal
---
2020 CFMoto Bikes Price List Nepal
---
2020 Aprilia Bikes Price List Nepal
---
2020 Reiju Bikes Price List Nepal